Barcelonan couple chases dream in 4×4, GUYANA Chronicle
Article about Around the World in 10 Years, on the Chronicle newspaper from Guyana. January 11 2009. Written by Priya Nauth
BARCELONAN COUPLE FOLLOWS THEIR DREAM IN A '4X4'
¡NADA es Imposible: Persique tus suenos! (Nothing is impossible; just follow your dreams!) is the message from Anna Callau and Pablo Rey as they travel around the world, exploring the unique and diverse lifestyles of different peoples. And this is exactly what the pair is doing.
The adventurous couple left their homeland, Spain, in southwestern Europe, since June 2000 and has since been travelling around the world in their four-wheel-drive vehicle, which for them is 'home-away-from-home'.
Anna and Pablo, who came to Guyana by way of neighbouring Brazil and through the Lethem trail, are camping out at the Sophia Exhibition Site here in Georgetown and during an exclusive interview with the Guyana Chronicle, told us about their bold quest and sometimes 'challenging' experiences.
"We were in Barcelona leading a normal life like everyone else. We had a comfortable flat, job, family and friends, but we were thinking that that was not what we really want to do," Anna said.
"…we thought we'd try to do what we dream of, and there was one moment when we thought we were stuck on this road with our way of life. We started talking about if this is what we want for the rest of our lives," Anna, who studied business administration and artistes promotion before giving it all up to follow her dreams and aspirations, said.
"To explore the possibility of going abroad to learn about other countries, other cultures, other ways of living….when you know what will happen, there is no surprise; life should be full of surprises," 42-year-old Pablo said.
His forte is really advertising, but he has been writing for the last 20 years, and now writes full-time about 'life on the road' in the various countries they have visited since leaving home. Some of his articles have been published in magazines in countries like Argentina, Peru and Ecuador here in South America.
Originally from Argentina, Pablo's also authored a book on Africa, and is currently working on another, which will feature a selection of short stories about the pair's journey around the world.
"In this life, we are used to doing what is more convenient, not what we want to do. In that moment of our lives, we decided to do what we dream to do — not what we were expected to do," Anna said.
"You just do things because you have to do these things. And you do not stop and think: 'Is this what I want to do?' At one point, we did stop and think: 'Is this what we want to do?'" Pablo chipped in.
Living our dream
"We are living our dream; the whole journey tells you about life," the pair, who have been together for over 10 years, said.
Pablo said when they left Barcelona eight and a half years ago, the idea was to accomplish the trip around the world in four years. The couple makes money to keep them going by selling books, post-cards and by writing articles about their journey around the world.
"The most shocking part of our journey, I think," Anna noted, "was Africa because we started without knowing anything about what was there."
"We've discovered a lot of different cultures; we have seen that people are good everywhere you go, because you put on the television and think that outside the country everybody is bad people," she said.
"It's all about the people; there are always a few who are unfriendly, but mainly, it is good. The feelings of the people are good, and that does not change, whether they are Muslim, Christian, Buddhist or Hindu…," Pablo again chimed in.
"Basically, we are altogether the same; this is the thing that you discover when you are far from your point of origin. And that is a very important thing," he said.
"I think the best thing we did was to take this step, and to take this chance of doing this; to have a different life," his 37-year old partner said.
"The most shocking moment was probably about six months after we started this journey, when we realised that we were leaving the city, and we stopped thinking about time and started thinking about places and people but not looking at the world all the time," Anna said.
Noting that the way people have opened their hearts to them sometimes gives them 'goose-bumps', Pablo said: "That is how it is like… because you are raised in a society that thinks more about money; more individually than collectively, and not us altogether."
Thus far, the couple has been to over 30 countries, including Argentina, Bolivia, Chile, Paraguay and Peru here in South America; as well as Italy, Ethiopia, Jordan, Kenya, Namibia, Syria, Sudan, Tanzania, Uganda, Zimbabwe, and Botswana.
Among those that have definitely touched them in many ways, they said, are Turkey, Sudan, Zimbabwe, South Africa, Argentina and Peru.
"These are the countries where you made friends and stayed more time. And you leave with the people in your heart… you have the same life like the people in the place and you learn from them a lot," Pablo said in his roundabout way of conveying his thoughts in English.
"South America is quite close to what we know, because they are speaking Spanish… and the food and people…," he added, meaning that their sojourn in South American was made bearable because of the similarities in custom and culture the countries they've visited share with Spain, which was at one time seen as the Motherland, in much the same way as the British colonies felt about England.
However, the place of their dreams, the couple revealed, was somewhere in Africa. "We would dream of a place we'd like to stay and live, and that is no doubt to go back and live in the southern part of Africa, where it is full of wildlife and have a simple life with a lot of small things that makes it rich," both Anna and Pablo said.
Friendly people
Turning their attention to Guyana, Pablo said: "We did not know much about Guyana; Guyana is not really known in South America and we are still learning about Guyana, but we like the people. The hospitality is great… they are not looking just for your money because you are tourists. In some other places, they see you as tourists. We saw people smiling on the road, and that is not very common.
"We had no information at all, and it is much better than we expected. Here is completely different. The people have been hospitable; the people have been open, and that is an important thing; when you are crossing a country and you can talk with the people."
They both said however, that because they are not as fluent as they would like to be in English, it can sometimes be difficult to understand what people are saying since most people communicate with each other in 'Creolese'.
"For us, it is more difficult to get in contact in English because you cannot express the feelings," Pablo said.
Noting that they had not planned on coming to Guyana, but seized the opportunity to do so after being in Brazil, Pablo said:
"We entered through the Savannahs and we saw and enjoyed a lot of the wildlife. That was very important, and it was beautiful to be on the road and be able to see a lot of birds. We even saw an ant-eater on the road, so it was really breathtaking to see the wildlife here in Guyana."
They both agreed that Guyana undoubtedly has great potential as an eco-tourism destination but needs to be marketed more and better. "It is a different culture inside South America, and that is very important; very good," Pablo said, adding: "The strong point is the eco-tourism and wildlife, because you do not see as much wildlife in the other places as in Guyana. You see a lot in Guyana."
"Being able to see wildlife from the road and in the jungle… that is amazing. It is usually difficult, so it is nice to see all this in the savannah," Anna said.
The duo promised to promote Guyana, and to tell people about this "little unknown place," and have already begun posting information on their website www.viajeros4x4x4.com through which they have been chronicling their journey.
They said it is the e-mails they receive from people all across the globe which inspire them to go on with the expedition.
"We have a blog, a webpage," Pablo said, "and we write in there. We write a lot of stories in there and every week, we receive mails from people who say that we are making and going on with their dream; that, in a way, we are making what they would like to do come true, but maybe, they do not have the courage and they ask us please go and do it for me."
"They are our 'gasoline' to go on, because sometimes, you want to be with your friends; you want to be with your family; you want a normal house; a normal shower. Sometimes we miss that, but when you receive these mails from people, it just encourages you to go on and continue doing what you dream of," he said.
The couple will be spending another two weeks here after returning from neighbouring Suriname in a few days, and said they are looking forward to the overland trip to the majestic Kaieteur Falls.
Inspiring people
Asked what is the message they hope to send people, Anna, who elected to respond, said: "That they can do whatever they want; that they just have to make the sacrifice, and plan what it is they want to do."
Asked what was the most difficult part of the journey, Anna said: "The most difficult thing when doing something is to start; it is the most difficult point, because you have to break with your routine and normal life, and start again. But we have no regrets at all."
They both conceded that one of the most important life's lessons they've learnt is that every problem has a solution, and that dreams can come true if one persists and puts all their energy into making it a reality.
"Sometimes it does not work the first time you try, but it doesn't mean it is not going to work. You can do it; you just have to try again," she said, adding:
"If everybody fights for what they want to do, I am sure that the world will be much better. The world is a good place; it is not perfect; but I am sure we would have a much better place."
The pair plans spending their last few days exploring the savannahs before heading back to Brazil and continuing their journey all the way to Alaska.
They took the opportunity to express their heartfelt thanks to the Director of the Guyana Tourism Authority (GTA), Mr. Indranauth Haralsingh and his staff; the people of Rainforest Tours and the people of Guyana for all the support and help they've given them during their sojourn here.
••••
READ MORE PABLO AND ANNA REAL TRAVEL STORIES IN THIS LINK
••••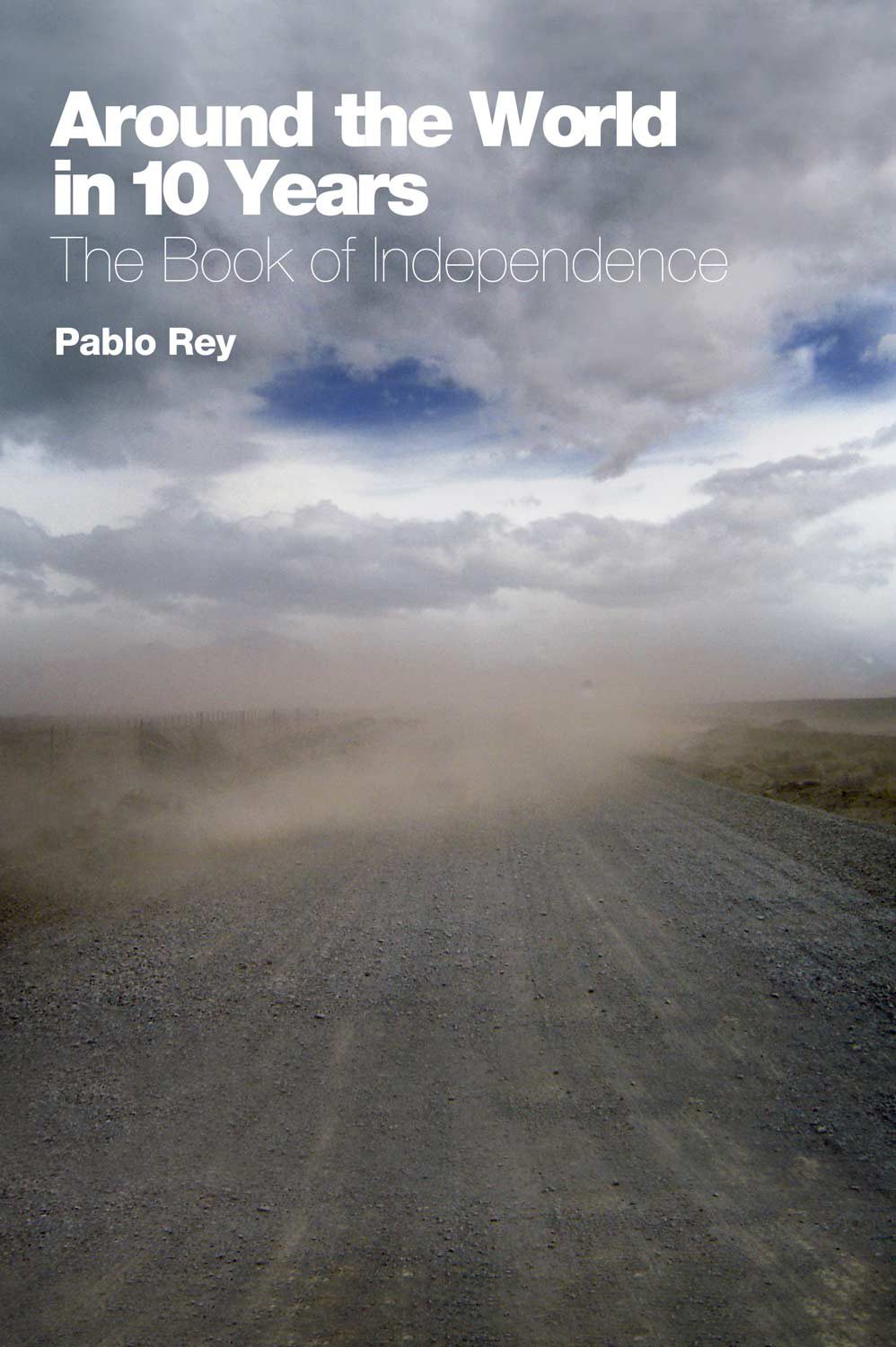 "The Book of Independence works its magic like a bellows on the embers of wanderlust, inspiring us to break away from the norm, to slow down and smell the proverbial roses… or cow or elephant dung. It's not about what you'll do after you retire, it's about what you do before you die."
Chris Collard, Chief Editor, Overland Journal Magazine

Pablo Rey (Buenos Aires) and Anna Callau (Barcelona) also known as #viajeros4x4x4, have been overlanding the world non stop since 2000 on a 4WD Delica van. They mastered the art of solving problems (breakdowns and police harassment, between them) in far away places, while enjoying their nomadic lifestyle.
They've been 3 years driving through Middle East and Africa, between Cairo and Cape Town; 7 years all around South America, and 7 years going to every corner of Central and North America. They crossed the Southern Atlantic Ocean in a fishing vessel, descended an Amazon river in a 6 log wooden raft, and walked with a swiss knife between elephants in wild Africa. On the last two years they started to travel by foot (Pyrenees mountains coast to coast, two months) and motorbike (Asia), with the smallest lugagge possible.
Pablo has written three books in Spanish (one translated in English), many articles to magazines like Overland Journal and Lonely Planet and both are in the short list of the most respected latino overlanders.
¿When will the journey end? It doesn't end, the journey is life itself.